Four Questions to Ask When Buying
There's a lot to consider when deciding to buy a home. The vast majority of people start off by looking online at homes. While doing that, consider these questions.
1) Does my realtor have local expertise?
Real estate is hyperlocal. In some cases, a street or neighborhood over is a different market. You want a realtor who knows. Ask them where they've worked. You can also check their Zillow online profile to see what areas they've covered well.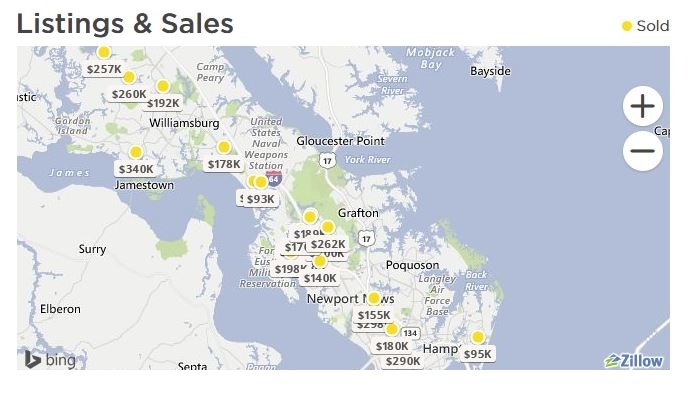 You can see here, this P&H agent has worked all across Hampton Roads in the past year across lots of price points.
2) How much should I be paying?
This is a big one. Please take note that we ask how much should you pay, not how much could you pay.
For a lot of buyers, their pre-qualification letter is the equivalent of a speed limit sign. 55 means 55 (OK, maybe 60 if no one's looking). After getting your pre-qual letter, do the numbers yourself. There are some hard and fast rules about budgeting for your home to note:
You don't want to be "house rich, cash poor." This means you're mortgage payment is too high and you have to sacrifice as a result. You deserve a nice vacation and gifts for the kids during the holidays. Having all of your money tied up in your home really can limit your options. We recommend playing it safer. Find a comfortable fit.
This mortgage calculator can help you figure out what you want to pay.

3) What features are important to my family and I?
This one is obvious but still important. Make a list of things you want in your house. Now, prioritize it! Order the criteria by importance to you and your family. One for most important, two for second, and so on. Often, trade-offs are necessary in real estate. A few common things people care about:
Closeness to job/schools

Location

School performance

Walkability

Crime statistics

# of bedrooms and bathrooms

Size of house and yard

Appreciation potential
Make sure that you have the list ready when talking with your realtor. This will keep your priorities in perspective when discussing your home must-haves.
4) How long will I be living there?
Your home is not only your sanctuary but a major investment and wealth builder.
The rich know this well. The home-ownership rate for wealthier Americans is 80% while the average for everyone else is 57%. While you could say that the wealthy own more stocks and luxury cars as well, you don't need stocks and luxury cars to live. You need a roof though. You might as well own yours if you plan on living in the area for a while. Many experts say home ownership is an important piece to building wealth.
Time is a big factor. There are expenses associated with buying and selling a house. Plan to live in your house for at least 3 – 5 years. The longer you live in your house, the more likey you are to secure equity in the home.
As always, this is a decision that you need to make. Professional advice can go along way though. Give us a call and put our 15 years of professional experience and almost 40 years of home ownership experience to work for you.
For a free consultation, call Judy at 757-784-8056 or shoot her an email at judy@pandhrealtors.com